Camzone Video Streaming Platform
The Camzone Content Deliver Network (CDN) has been designed and built through and through, from camera to viewing screen, to provide the best possible user experience, regardless of viewing platform or camera feed. Combining the very latest hardware and software with some thirty years of live streaming experience, Camzone brings you a seamless live streaming video solution that scales to give you a limitless worldwide audience. Suddenly, your destination is a worldwide phenomenon!

Works On Every Platform
With Camzone, your cameras transmit directly to the Camzone data center, where the live feed is processed and prepared for global delivery. The signal is converted for optimal viewing on any platform:

Desktop, laptop, tablet or phone
Mac, PC, Unix, iOS or Android
Flash or HTML5
Fast or slow internet connections (automatically switching from high to standard definition depending on viewing conditions)
Then your video feed is served to access points all over the world, on-demand, 24/7. Viewers can "tune in" wherever they are, whenever they want – giving them instant exposure to your brand.

Unlimited Streaming Video Scalability
The Camzone CDN has been built from the ground up to provide full bandwidth, HD quality video to viewers across the globe. You can think of the Camzone as a really, really big pipe, able to carry a limitless amount of video feed to millions of access points simultaneously. Literally millions of simultaneous viewers can enjoy your live feed with no interruption.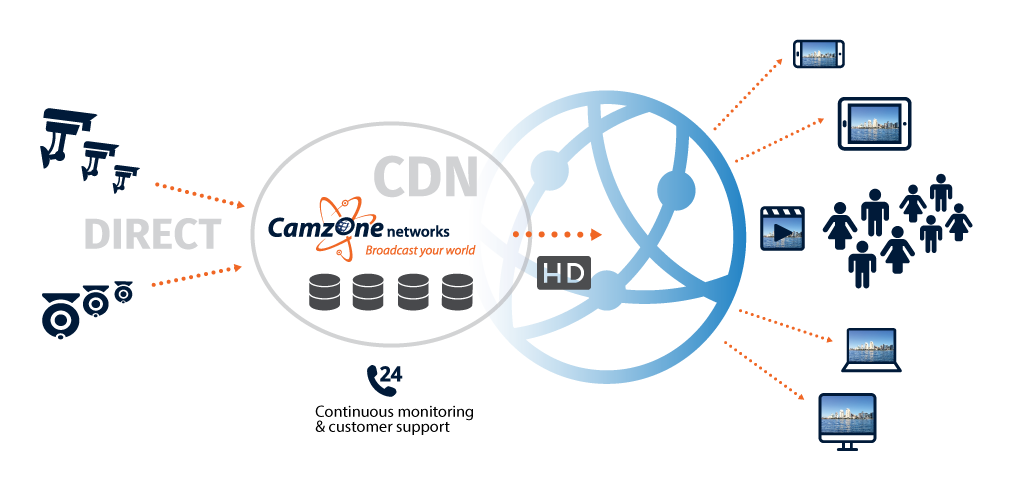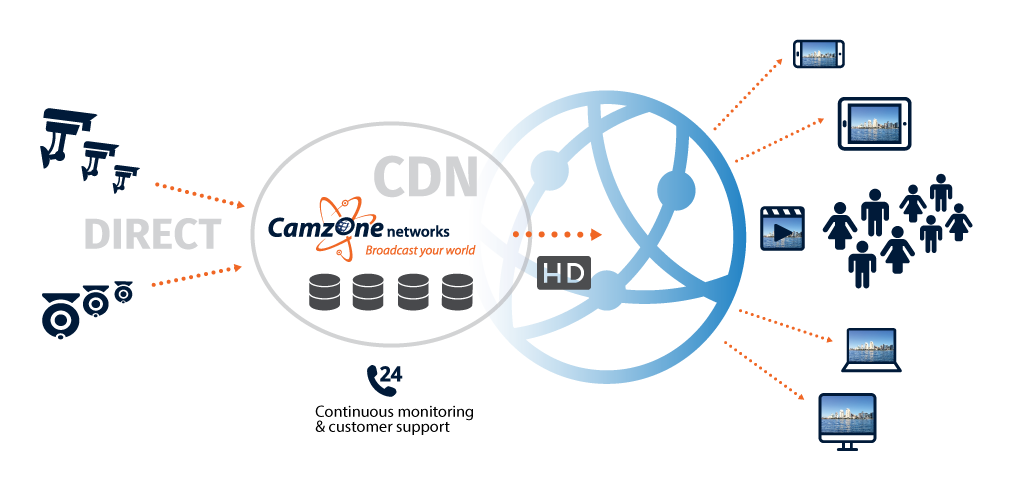 How We Do It
Not to get too technical, but here's how we deliver a great video experience to all of your viewers. Camzone's dynamic video-delivery network intelligently streams live and on-demand video content. Our control servers monitor the load, the video source, and the network to dynamically ingest and host video to our "origin" servers. As control servers receive demand for video content from Internet viewers, the servers route the request to whichever of our many "edge" servers is best suited to deliver that stream. Our multi-homed Tier 1 backbone structure provides redundancy of the video-content streaming from our edge servers, enabling video delivery that's both extremely fast and ultra reliable, no matter how many people are viewing the stream.

A Complete Streaming Video Package
When you sign up for a Camzone live video streaming package, you get a turn-key solution with a host of benefits, including:

24/7 behind-the-scenes monitoring to keep your stream always up and always smooth
24/7 customer support line. Most customers never need it – but we're always happy to chat with you!
A full pre-assessment to tailor the most cost-efficient and capable video delivery solution for your needs
Camera installation and setup
Comprehensive testing to ensure meeting your requirements
A comprehensive dashboard with complete viewership and network performance metrics
The ability to add chat and privacy controls to your video feeds
SEE HOW EASY IT IS TO BROADCAST YOUR WORLD.